Lost Ark Update: Strength of Esod is already
For Lost Ark, Seekers! The Power of Esdo update has been installed on the servers. You will find the Heroic Raid on the Lord of Illusions, a powerful esdo weapon, the new Hanumatan Guardian, updated interfaces, etc.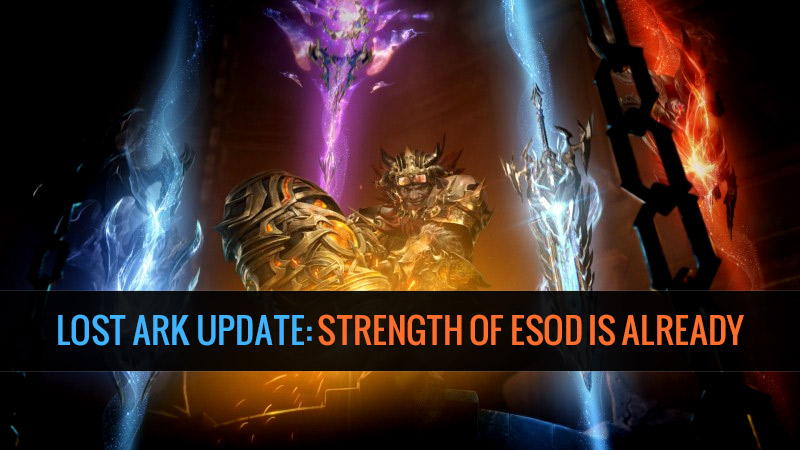 Heroic raid on Avrelsud
Avrelsud Heroic Raid Mode is now available in LOST ARK - challenge the Lord of Illusions on Hard difficulty. To go into battle, you will need to assemble a team of 8 players with a minimum equipment rating of 1540.
Defeating the Lord of Illusions will drop a new pet, a head ornament, and new jewelry and items for crafting Ancient-type equipment. In addition, you can get items that will be useful for creating and strengthening esdo weapons for victory.
Esdo Weapon
With the update, esdo weapons appeared in the game. Only the bravest Seekers will be able to take it.
After completing the 6th phase of the Avrelsud raid on normal or heroic difficulty, you will receive a task where, together with Vakhantur, you will learn about a new weapon.
Ancient Equipment
Ancient Gear and accessories are already available in LOST ARK.
New jewelry and bracelets are given as a reward for the Heroic raid on Avrelsud and for completing dungeons and participating in guild events on the captured islands.
New Adventures
Guardian Hanumatan, who during the Second Invasion fought on the side of the Light, and then disappeared without a trace, again made himself felt. Its stomp and roar reverberated through the misty Kin Kon archipelago, heralding new battles. Players with equipment level 1540 and above will be able to fight Hanuman.
Different stages of Halls of Chaos, Towers, and the Path of Trials have been opened.
Play Store Update
The game store has been replenished with fantastic new items. Hurry up to get acquainted with them and please yourself.
Awards Calendars
Collect gifts daily for entering LOST ARK!
Please Note: only one Legacy character can receive gifts.
Newcomers and Seekers who haven't been to LOST ARK for a long time will find additional gifts in a unique calendar.
Other Changes
With the update, changes were made to the characteristics and skills of various classes and the parameters of high-level equipment.
Also, you will find updated interfaces, a choice of Lost Ark gold recipient characters, new hairstyles, a single entry window to dungeons, and more.
In addition, the game already has a change in the extraction of resources in the estate, an update to the Diary of a fighter and marching templates, the fifth PvP season, and other innovations.
Related: Is Lost Ark worth playing in 2022?